Our Newest release! The best features of our Best-selling "Original" Dog Treat Bag made even better, its the ultimate Adventure Dog walking Bag!
- TREAT BAG PRO FEATURES -
- Heavier Duty Zippers
-Better Water Bottle Storage
-More internal pockets
-Super Reflective Features
- Ultra Bright reflective piping around the top of the bag, be seen more easily in low light conditions make it safer when Dog walking at night!
- New, "mini pocket" on the inside (and wearers side) of main pouch. Even more ways to store treats for easy access, for just a small amount of treats this mini pocket is perfect! (really handy for High value treats when pup needs a little extra motivation) Works perfectly through the "Split-Top" feature too!
-New reinforced, heavier duty, and larger side pockets hold a water bottle or other  items on both sides.
If your serious about having everything you need and organized for your Dog, with fast access to treats, the Treat Bag Pro is for you!
Perfect for training classes, hikes, walks, and trips to the dog park, anywhere your pup comes with you. You'll love using it! Featuring a bright, overlapping neoprene no-spill split top(patent-pending) it allows you to reach in and treat your dog quickly without breaking concentration. No more fumbling with a drawstring closure, clasps or zippers just to get a treat! It Works well for any item you need to grab quickly!
The Wolf In Winter© Dog Treat Bag Pro is available in 3 vibrant colours (raspberry, orange, and alpine blue) and features a large front zippered storage pocket for your phone, keys, and other accessories, as well as two upgraded and larger elastic side pouches, for water bottles. The Treat Bag Pro has everything you need to stay organized so you can focus on spending time with your pup!
Slim design measuring 7.5" x 4.5" x 6.5"
Three ways to wear - adjustable cross-body strap, adjustable waist strap (both adjustable up to 60"), or belt clip
XL zippered front storage pocket for your cell phone, keys, etc
Built-in waste bag dispenser
Lifetime replacement warranty
Shipping & Returns
Orders will be processed within 1 to 2 business days (Monday to Friday), and shipping times differ but in most cases will be up to 5 business days.
We stand behind all of our products. Please contact us to arrange a return.
The ultimate dog walking bag in action!
A Dog Treat Pouch Designed by Dog Lovers for Dog Lovers
The unique Split-Top Opening, exclusive to the Wolf In Winter© treat bag range, has changed the training game, allowing pet owners to offer instant rewards and consistent eye contact. As dog lovers and enthusiasts, we know how important attention is during dog training.
Our training pouch allows you to reward your pet while maintaining attention. Other treat pouches usually come with a drawstring or magnetic opening; both do NOT provide easy access to your treats. The unique stretchy neoprene no-spill split top opening makes treating your dog fast and effortless.
Versatile, Slim & Stylish
You'll actually want to wear this dog treat pouch! It's thoughtfully designed to be comfortable and stylish, so you'll feel confident no matter where you venture.
The Wolf In Winter dog treat bag is versatile and can be worn three ways - as a waist pack, over the shoulder strap, or use the belt clip. A bright interior makes dog treats and gear easy to find, and it comes in 3 different colors to match your style.
• Size: 6.5" L x 4.5" W x 7.5" H
• Comfortable 60'' belt + 60'' shoulder strap included
• Wear it over your shoulder/cross body, around your waist, or clip it to your belt
• More efficient compared to other dog treat pouches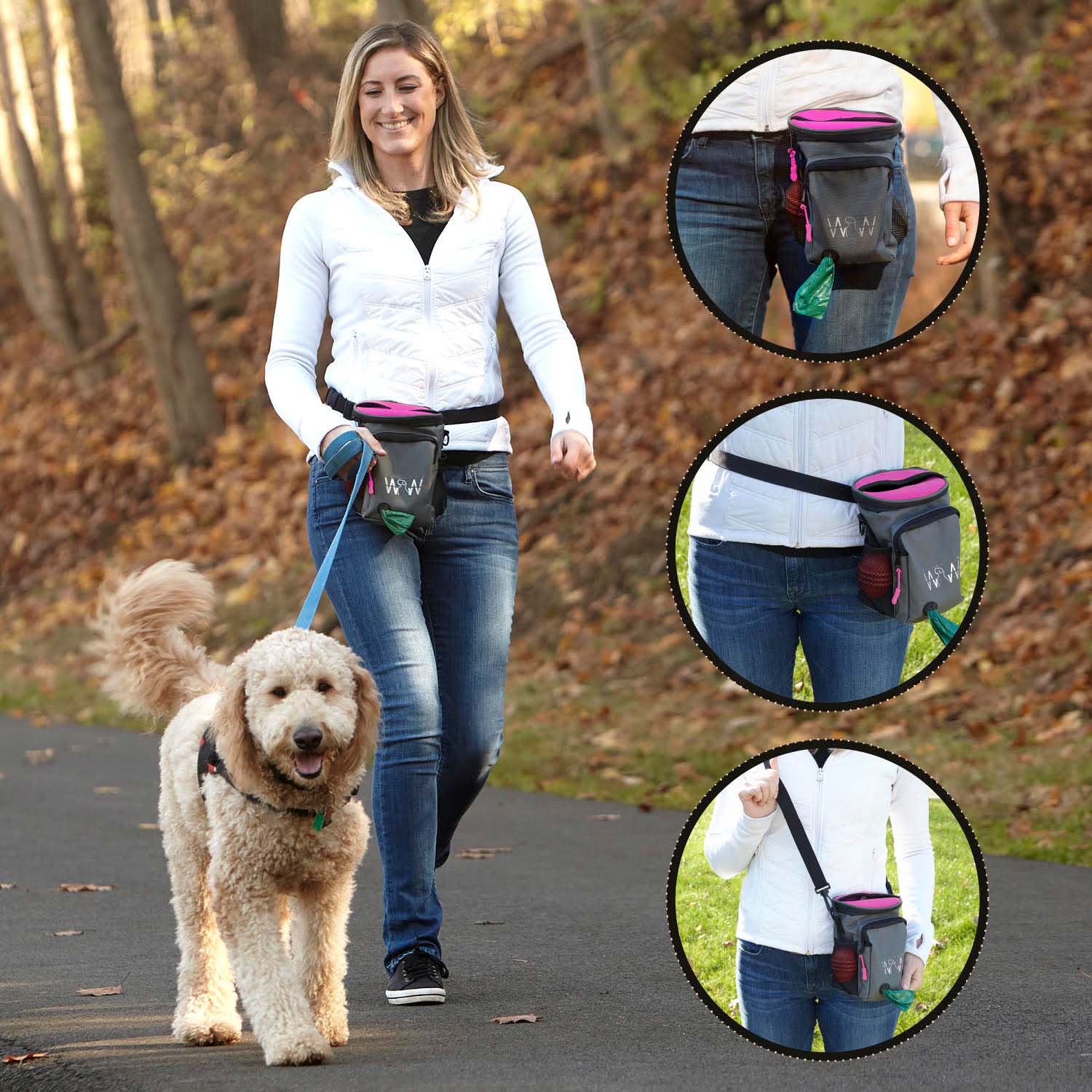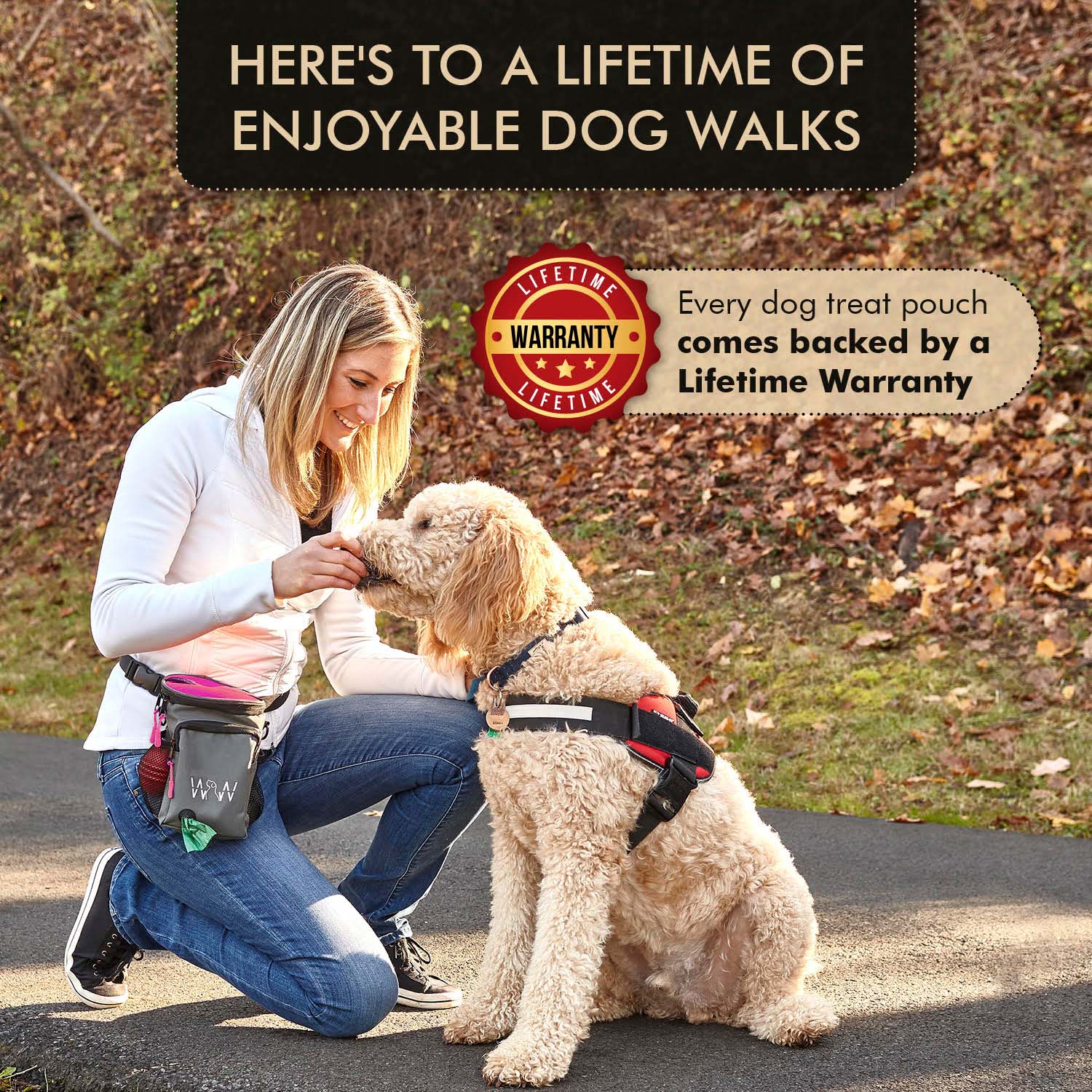 Lifetime Replacement Warranty
We're so confident in the quality of our dog treat pouches that we offer a lifetime replacement warranty. If your pouch ever tears, rips, or otherwise fails to meet your expectations, we'll replace it - no questions asked.
Our hands-free dog treat pouch is made of high-quality, durable materials that are resistant to water and stains, easy to clean, and built to last. Cheers to a lifetime of adventuring!
• Hands down one of the best dog treat pouches on the market
• Water and stain-resistant for easy cleaning - made to last
• 100% satisfaction guaranteed - lifetime warranty
• Professional dog trainers trust our treat bag